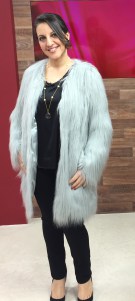 This weeks styling for The Chrissy B Show featured looks by designer's like Paige, Sam Edelman, Nicole Miller, Unreal Fur and more.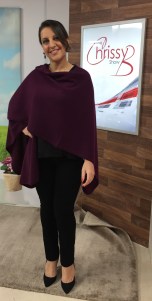 Host Chrissy B is wearing an all black base consisting of straight leg mid-rise jeans by Mother and a silk vest by American Vintage which allows me to change her look quickly and effortlessly.
Her daytime or casual look is this faux fur jacket by Unreal Fur and necklace by Feather & Stone.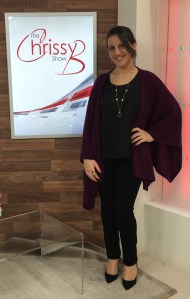 For a elegant and chic evening look replace the jacket with a cashmere wrap. This Nicole Miller piece in deep burgundy can be worn many different ways, so play around with the draping to create a look that flatters you. I went for a monochrome rock and roll look. Skinny leather-look denim by Paige and a white long sleeve shirt are layered with a black leather biker jacket and black fur gilet by Furst overtop.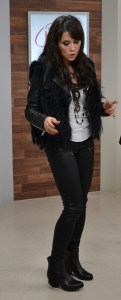 The biker jacket has intricate laser cut detailing that will be very popular for Spring/Summer 2015, and adds even more texture to the outfit. Black fringed ankle boots by Sam Edelman compliment the silver zipper details of the jeans, completing the rocker look.
For more information about me visit themodjournalist.com
Cynthia Gregoire
The Chrissy B Show gives a special thanks to Question Air Boutique for providing the wardrobe for Chrissy for the Monday and Wednesday shows. Question Air are an independent boutique in London with a philosophy to deliver established and emerging designers to a fashion conscious consumer. To find out more, visit www.question-air.com