The red lip is a timeless classic and glamorous make-up trend will never go out of style. This is a great choice for this festive season, bringing the upmost sophistication to your make-up for holiday get togethers and events. So here are a few tips to make sure you get this look right!
Choose the Most Flattering Colour for Your Skin
There are so many different undertones in red lipstick, orange, pink, plum and blue. I find the orange-red toned lipstick looks amazing on light skin and stands out beautifully on darker skin. This truly is very flattering colour for all, a no-fail pick no matter what colour of skin you have. I use Micro Bubble Lipstick by Daniel Sandler in shade 'Micro Red'.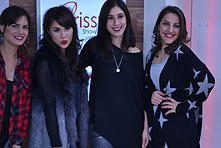 (Model Celine Lefrive is wearing a orange-red, Stylist Cynthia Gregoire is wearing a blue-toned red lip with darker liner in 'deep wine' by Laura Mercier, MUA Maegan Gregoire is wearing a deep blue toned red lipstick with black liner, Talk Show Host Christoulla Boodram is wearing an orange red).
Brighter blue toned red lipstick works best to cancel out pink undertones on lighter skin tones. A good example of this colour is a lipstick by Loreal called 'British Red'. The deeper blue-toned red lipstick is best on mid to darker skin tones, but again can be worn on all skin types. A great example of this darker blue toned red lip colour is Russian Red by MAC Cosmetics.
If you are lighter skin darker reds can look too heavy when you pair it with the 'minimal eyes look' in neutral colours. To even this imbalance out and make this look wearable, you would want to add a bit of heaviness to the eyes. A trick I use to create 'smoulder' with the upper eye is lining the upper eyelids with jet black eyeshadow into the top lash line with a flat brush. This would be just like applying black liner to them except using shadow. Then take a eyeshadow brush without any shadow and blend the colour up. This creates a pretty 'smouldering' effect that looks lovely with red lips. Go on to apply your black liquid or gel liner with a winged cat-eye the black shadow creates a little edge to this look.
Get Rid of the Dry Lip Skin
There is nothing worse than applying a matte red lipstick or bright shade of lips to flaky palette. This is not flattering and in fact looks a bit…..gross. Make sure to lightly exfoliate your lips when you brush your teeth or soak them in a good lip balm to make sure you have a nice smooth surface to apply your colour. I like using the strawberry Carmexwhich is available almost at any grocery store or pharmacy. This balm creates a tingle but sure works it's magic, I don't think I would be able to do my job without it!
Always…..Always Wear a Lipliner
When wearing a bold colour like red, you must wear a liner otherwise you may get the 'clown' effect from the lipstick bleeding outside the lip line. First start with lining and filling in your lips with a matching shade of lip liner. Then take your ring finger and press that lipliner colour into the lips to make a stain. This way when your lipstick wears off you will be left with a bit of colour and it won't look so washed away after meals or drinking beverages throughout the night.
Lastly make sure to fill in the tops of the 'cupid's bow' and the very inner corner of the lips so that you get that truly defined red shaped lip.
Top Tip:
Try using a lipliner a shade or two darker than your red lipstick your create that two-toned red lip look. ie. If you have a deep plum red you can use a brown/black liner to lightly line the very outer parts of the lips at the very end. Do not use a dark liner at the start as a stain or as this would cancel out the red in the middle which creates that lovely two-toned red lip!
For more information about me visit www.maegansmakeup.com
Theresa Maegan Gregoire
The transaction will be handled by square, a company that is well known when it
https://topspying.com
comes to digitally handling money