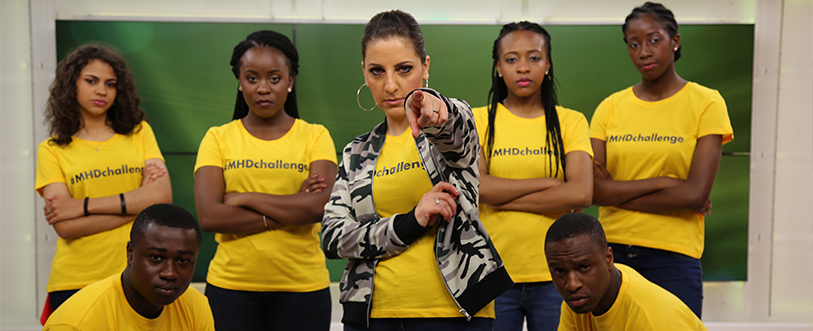 What is the #MHDchallenge?
The #MHDchallenge stands for Mental Health Dance challenge. (Well done to those who guessed right). It's a dance that aims to encourage people to look after their mental health, and wellbeing, fight back against depression & other mental health issues and raise awareness. Read more.
How does it work?
Step 1: Watch the official dance video and get inspired.
Step 2: Watch the tutorial & learn the dance.
Step 3: Download the tune for free.
Step 4: Record yourself doing the challenge and post on social media and challenge your friends and colleagues to do the same stating the following:
"I (your name) challenge you (your friend's/colleagues names) to do the Chrissy B Show's #MHDchallenge" Remember to use the hashtag #MHDchallenge #chrissybshow #VYG Your video could be selected to air on the Chrissy B Show on mytv SKY 203.
Note: The dance has a challenging part and an easier part. Choose to do either, or both parts. You can even put your own stamp on it by freestyling at the end. And remember, have lots of fun. Note: You will need something red such as a hanky or scarf to do the dance, which signifies you declaring war against depression and anything else that is trying to put you down.
If you would like to buy the official T-shirt, click here.
To book the #MHDchallenge team and hear Chrissy speak, email info@chrissybshow.tv.
"What is the aim of the #MHDchallenge?"
The main aim is to encourage people not to let depression (and other mental health issues) take over their lives and encourage people to fight back. It aims to encourage people to open up and seek help without the fear of being stigmatised, because having a mental health issue isn't anything to be ashamed of – you just need to get help and not let it ruin your life. It also aims to bring a wider understanding of mental health issues to the general public by getting more people talking about it.
How did this idea come about?
Chrissy B (who came up with the idea) suffered from mental health issues for several years including anxiety, depression, panic attacks, a phobia of death and OCD. She felt lonely and that she couldn't talk to anyone because they wouldn't understand. When she finally sought help, she was taught to fight back. Now totally recovered, she wants more people to feel comfortable to open up, get help and live again. She had the idea for the #MHDchallenge around 2 years ago but decided to work on it earlier this year and launch it. Watch Chrissy B's interview here.  Read the official press release.