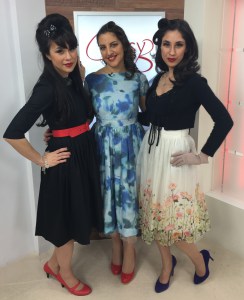 In 1947, Christian Dior revealed to the world a "New Look" consisting of full skirted silhouettes reminiscent of the Victorian era. 1950's fashion was to become an era in which women would finally be able to express their individual identity.
The look included using an extravagant amount of fabric, calf length hems and tiny accentuated waists. This look was very different in mentality to 1940's fashion, where clothing was rationed, recycled, and repaired until the garments could no longer be worn.
Floral designs such as flowers were common and coloured buttons, belts and shoes accentuated the dresses.
Hairstyles carried forward the Victorian rolls from the 1940's and signature makeup included red lips, a subtle cateye flick and penciled in beauty marks.
'Old Hollywood Glamour' was the look to attain and fashion idols of the decade included English and American film actresses such as Grace Kelly, Elizabeth Taylor and Audrey Hepburn.
On The Chrissy B Show I talk about the relevance of this silhouette in 2015, and highlight a London designer "Mrs Pomeranz" who takes 1950's silhouettes and makes her own contemporary designs from them.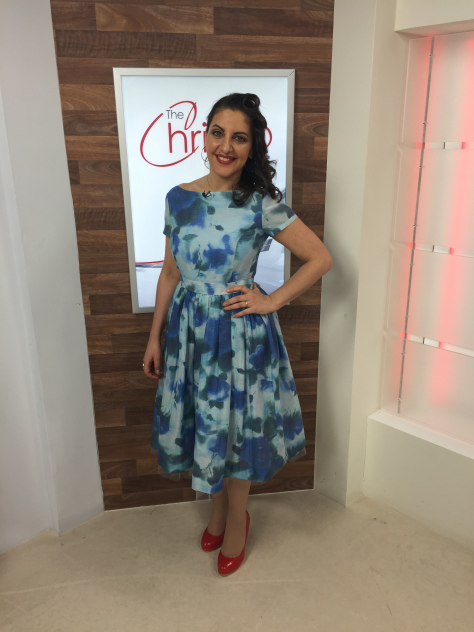 Chrissy is wearing the "Hannah" Brocade Cocktail Dress, made of beautiful Italian linen brocade fabric with a vibrant blue rose print.
Note the fitted bodice with short sleeves, boat neck at the front and low button up back. The full, gently pleated skirt has side pockets and a net frill, which imitates a petticoat.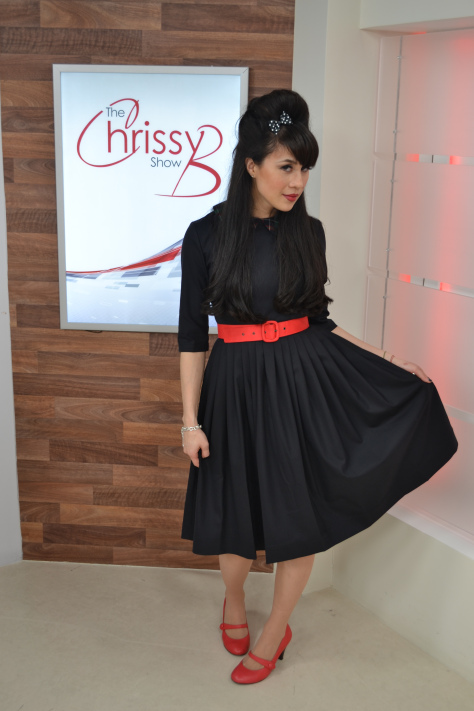 I'm wearing the "Waverley" dress with a removable Peter Pan collar. It also comes with a second option for collar in pure white. The combinations of Peter Pan collar and full calf length skirt made the dress quite unique looking, mixing 1950's with early 1900's details all designed together for a contemporary style.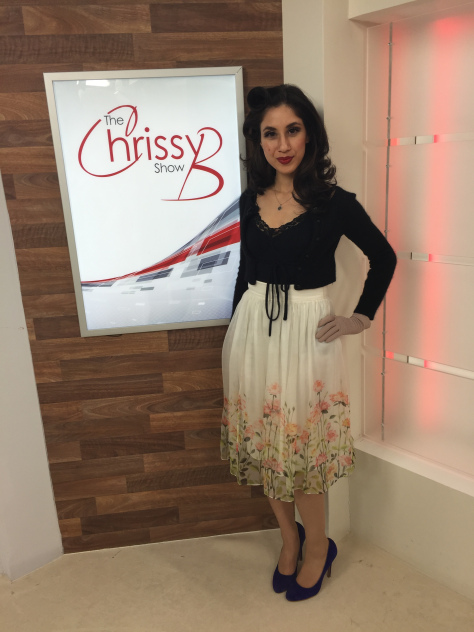 Make-up artist Maegan is wearing a made-to-measure special design skirt in white with floral patterns for spring. This type of skirt looks great styled with a racerback vest tucked in and a short cardigan as pictured here.
For more information about me visit themodjournalist.com
The Chrissy B Show gives a special thanks to Question Air Boutique for providing the wardrobe for Chrissy for the Monday and Wednesday shows. Question Air are an independent boutique in London with a philosophy to deliver established and emerging designers to a fashion conscious consumer. To find out more, visit www.question-air.com