This weeks styling for The Chrissy B Show featured looks by designer's like, Paige, Frame, Sam Edelman, Essentiel, Rails and more.
For Monday's show the theme was dressing to "hide the Christmas flab", that extra couple of pounds some of us may have gained over the holiday season. Using dark colours and finding garments with appropriate structure will hide any unwanted bulges until your New Years gym resolutions kick in.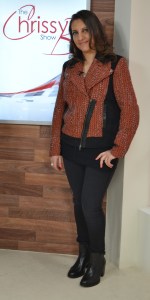 Chrissy is wearing black skinny jeans by Frame and black ankle boots by the German designer Liebeskind.
On top she is wearing an American Vintage vest and an orange and black structured biker jacket by Pyrus.
The black side paneling and off centre zipper are both great features to slim and draw attention away from the midriff area.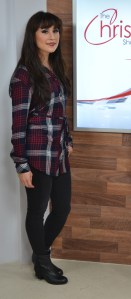 I'm wearing a shirt dress by Los Angelos designer Rails. Rails garments have luxiourious fabrics that feel great against the skin and there is no need to wear a layer underneath.
A shirt dress is an amazingly versatile garment for the Spring/Summer wardrobe and can be worn in many different ways as it serves as a shirt or a dress. The drawstring allows you to change the shape of the garment to your body.
I styled mine with black skinny jeans by Paige and fringed ankle boots by Sam Edelman.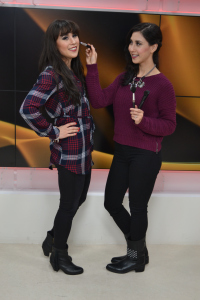 Another look you could try to hide excess flab is a high waisted jean with a crop top look.
A high waisted jean such as the one I've styled Maegan in by Paige acts as a corset top and finishes high just below the bellybutton.
Cropped knitwear by 360 Sweater, studded ¾ boots by Italian designer Vic, and a statement necklace by Oasis completes the look.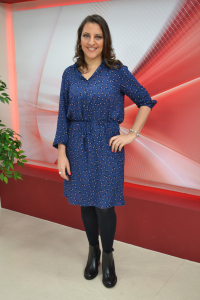 For Wednesday's show this week I've styled Chrissy B in a mini lipstick print drawstring dress by 0039 Italy.
The lightweight fabric with adjustable drawstrings allow you to change the shape of the dress from tight and form-fitting to loose and oversize depending on your mood and the look you are going for.
The dress is part of 0039 Italy's newest Spring/Summer 15 collection, but you don't have to wait a couple of months to wear it. Just style appropriately to match the weather. I've paired the dress with thick black tights and black ankle boots by German designer Liebeskind.
For more information about me visit themodjournalist.com
The Chrissy B Show gives a special thanks to Question Air Boutique for providing the wardrobe for Chrissy for the Monday and Wednesday shows. Question Air are an independent boutique in London with a philosophy to deliver established and emerging designers to a fashion conscious consumer. To find out more, visit www.question-air.com