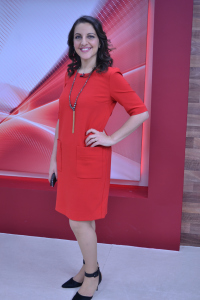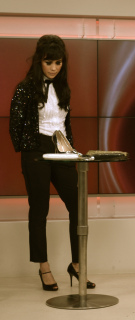 This week on The Chrissy B Show is my third and final week covering Christmas Fashion. This weeks looks were inspired by Saint Laurent, Vivienne Westwood and Diane von Furstenberg.
Host Chrissy B is wearing Diane von Furstenberg's modernised version of the 60's shift dress in red.
To complete Chrissy's look I chose a tassel necklace by Feather & Stone and pony skin kitten heels by Sam Edelman.
I went for a look inspired by Saint Laurent. I paired Maje tuxedo trousers with a ruffle tuxedo shirt and Kentucky tie. I make the famous "Le Smoking" look festive by adding a cropped sequin blazer by Pyrus.

Make up artist Maegan is wearing an asymmetrical black sparkle dress by Vivienne Westwood. Because the sparkle is subtle in this garment, you can go wild with shoe colour. A pair of open toe gold stilettos by Steve Maden complete this look.
Céline Lefèvre is modelling a red and black Italian vintage blazer. Also inspired by Saint Laurent, I paired this blazer with Maje shorts and chunky heeled ankle boots by Vic. Mix and match feminine and masculine silhouettes for a strong, confident look.
For more information about me visit themodjournalist.com
Cynthia Gregoire
The Chrissy B Show gives a special thanks to Question Air Boutique for providing the wardrobe for Chrissy for the Monday and Wednesday shows. Question Air are an independent boutique in London with a philosophy to deliver established and emerging designers to a fashion conscious consumer. To find out more, visit www.question-air.com
Snapcash will work by linking spy apps
see here
your debit card to your snapchat account