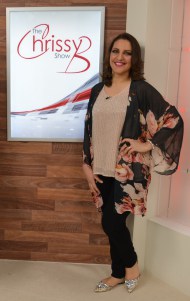 Host Chrissy B is styled with a little extra glam and this means dashes of colour and jewelled detailing. A beautiful sequined pale pink coloured vest brings out the rose details in this silk kimono. Both pieces by London designer Pyrus.
Kimonos are still hot this season and are an extremely versatile piece that can be worns with skirts, shorts, trousers or denim.
Black skinny jeans by Mother are glammed up with jeweled flats by Sam Edelman. You could opt for heels if you plan to dance the night away.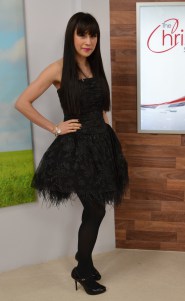 I'm styled in a formal ostrich feather cocktail dress by Victorio & Lucchino. Paired with black tights and black heels by Guess, my hair has been styled sleek and long for a minimalist look.

Colour is added through strong eye and lip makeup. Silver jewellery accents the black.
Add a dash of colour with your evening bag and coat for a sophisticated look.
Make-up artist Maegan is modeling the comfortable and casual look for staying in or going out to low-key venues.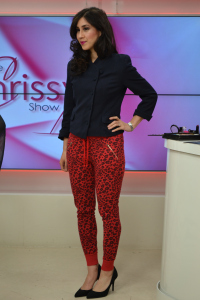 Red leopard print fitted leggings by Sundry and a Disney Mickey Mouse t-shirt by Paul & Joe Sister make this a comfortable and relaxed look.
This outfit tranforms to evening with a black leather jacket or blazer and black stilettos.
For more information about me visitthemodjournalist.com
The Chrissy B Show gives a special thanks to Question Air Boutique for providing the wardrobe for Chrissy for the Monday and Wednesday shows. Question Air are an independent boutique in London with a philosophy to deliver established and emerging designers to a fashion conscious consumer. To find out more, visit www.question-air.com