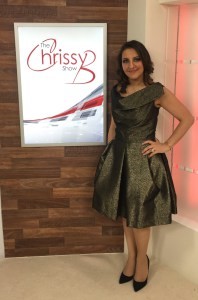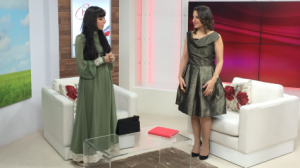 This weeks styling for The Chrissy B Show featured looks by
designer's John Charles of London, Vivienne Westwood, and Roland Mouret.
Chrissy is wearing an Anglomania Vivienne Westwood dress. The dress especially flatters Chrissy's figure due to the details of the garment.
An off-the-shoulder neckline showcases a women's delicate collarbone and the fuller skirt in dark green-gold metallic fabric highlights a tiny waistline.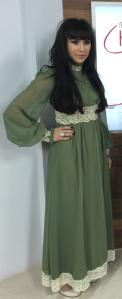 I'm wearing a beautiful vintage piece by John Charles of London.
I don't have an exact year for this dress but I speculate it's anywhere around 1968-1972.
The pale green colour mixed with lace hemline, waistline, neckline and cuffs gives a 'goddess' type look to the gown.
Sheer arm panelling and the longer silhouettes are signature of this time periodic fashion history.
Make-up Artist Maegan wearing Roland Mouret
Maegan is wearing a sample dress by Roland Mouret.
Off the shoulder and asymmetrically draped to one side, this dress has a Grecian look to it.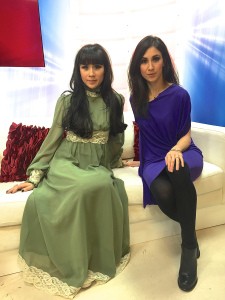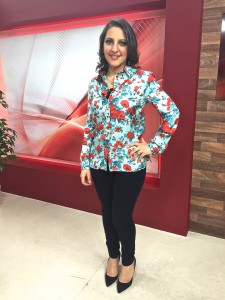 For Wednesday's show this week I've styled Chrissy B in a digital pixelated rose blouse by MSGM, mid-rise skinny midnight blue-black jeans by Frame Denim and black stilettos.
For more information about me visit themodjournalist.com
The Chrissy B Show gives a special thanks to Question Air Boutique for providing the wardrobe for Chrissy for the Monday and Wednesday shows. Question Air are an independent boutique in London with a philosophy to deliver established and emerging designers to a fashion conscious consumer. To find out more, visit www.question-air.com