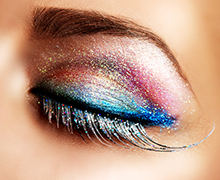 The 1960's was an era all about expressing youself through your eyes. There were so many different inspirations and iconic looks such as the 'mod look' established during this decade. Famous celebrities such as Brigitte Bardot, Edie Sedgwick, Sophia Loren and Elizabeth Taylor (Cleopatra) had significant trademark make-up that we still re-create today.
Go All Out with Your Lashes
Do not under estimate the impact of a false lash. There are so many options and ranges of quality of last that you can choose from. If you really want to make an impact statement try expressing yourself by grabbing a pair of 'falsies'. My ultimate favourite style are Shu Uemura Falfalina lashes. They are a fuller blend of brown and black lashes that create a very soft, natural and pretty finish. You can also opt to make a larger statement depending on your mood and confidence and have a play with colours.
Use the Colour Wheel Method to Choose Your Shadow
Look at the colour wheel, and according to your eye hue, choose the opposite colours to apply for most drama.Top Tips: If you have brown eyes, try using navy flicked eyeliner for ultimate impact. If you have blue eyes, bronzes, golds and browns look amazing. If you have green eyes any hue of purple will bring enhance your eye colour to the max. If you have hazel eyes, emerald green, golds and browns will make them dazzle to their best abilities!
How about trying a simple contrast of black and white matte shadow to create drama and contrast. This was an ultimate 60's make-up trend that to create impact without overpowering the loud and geometric prints that dominated the fashion world this decade.
For more information about me visit www.maegansmakeup.com
Theresa Maegan Gregoire