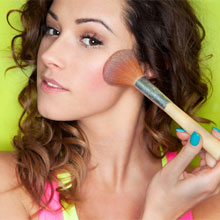 Blushers can come in the form of a gel, stain, and powder. When choosing which one is for you, think about the condition of your skin. If you have normal to dry skin, gels and stains suit best, oily complexions may exaggerate large pores which can look unflattering.
Remember to work quickly if working with a gel or stain as the product dries fast and if not spread evenly can look blotchy or patchy. One of my favourite liquid blushers is from Daniel Sandler who has gained much recognition for the performance of his water fluid blushers. They are so pigmented you need very little product and the colour lasts all day long. My favourite shades are 'Cherub' and 'So Pretty'.
The benefit from a stain or gel is that you can achieve that natural, 'dewy flush from within' look that with some blusher products can double up as a matching lip stain! Here is another favourite product of mine the GIvenchy cheek and lip stain limited edition!
When using gels and stains you can use them as a base and set with a powder for a longer lasting application. Speaking of which, make sure that you never apply too much blusher as it can have a 'clowny' effect. If you build-up the product you are more likely to achieve the flush in the strength you find most flattering after a few applications.
Top Tip: For powder blusher application is to load your brush up evenly all around then gently give one or two taps to the back of your hand before blending into the apple and high cheek bone area.
Lastly remember that for cheeks that 'pop', you will need a bit of contouring and highlighter for that three dimensional look that really stands out.
For more information about me visit www.maegansmakeup.com
Theresa Maegan Gregoire