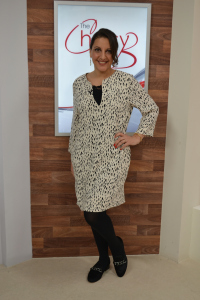 This weeks styling for The Chrissy B Show featured looks by designer's like Paige, Sam Edelman, 360 Sweater, Essentiel and more.
Host Chrissy B is wearing an Spring/Summer 15 collection shift dress by Belgian designer Essentiel.
The dress is a modern version of the 1960's trend and is done in a subtle monochrome print.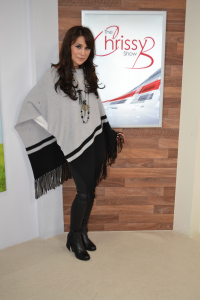 I've kept the look minimal by pairing with thick black tights and detailed pony skin flats by Sam Edelman.
Going boho chic, I paired skinny leather-look denim by Paige and black fringed ankle boots by Sam Edelman with an asymmetrically cut cashmere poncho by 360 Sweater.
Adding fringe to your outfit adds movement and a free-spirited effect to your look.
This look would also be great with a wide brimmed black floppy hat.
For more information about me visit themodjournalist.com
Cynthia Gregoire
The Chrissy B Show gives a special thanks to Question Air Boutique for providing the wardrobe for Chrissy for the Monday and Wednesday shows. Question Air are an independent boutique in London with a philosophy to deliver established and emerging designers to a fashion conscious consumer. To find out more, visit www.question-air.com