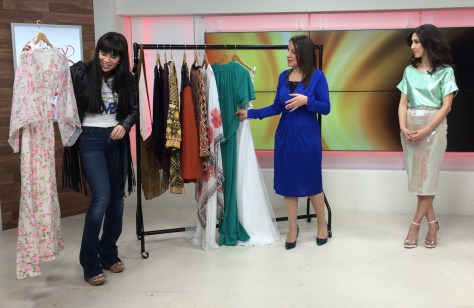 This weeks styling for The Chrissy B Show featured 1970's fashion inspired by three iconic 1970's actresses and artists, Cher, Farrah Fawcett, and Brigitte Bardot.
The 1970's will be a heavy influence on fashion trends for the upcoming year, and the question becomes, "How much do I borrow from history and add/integrate into my 2015 wardrobe?"
Here are the "key trends" from the 1970's:
• polyester
• psychedelic patterns
• bell-bottomed trousers
• disco, glitter, metallics
• pointed collars
• bright colours
• angel/bell/flared sleeves
• flowy dresses (long and short)
• the "midi" skirt
•longer silhouettes for dresses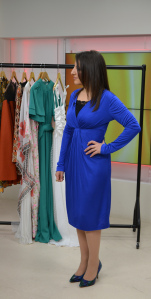 The 1970's were heavily influenced by the 1960's (see 1960's style here) and so garments, especially in the early 70's saw many trends carry over from the last decade such as fringe, headbands and miniskirts.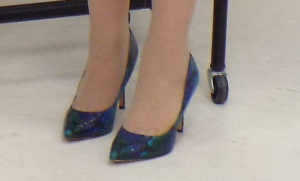 Chrissy is wearing Diane von Furstenberg, a premium American fashion designer known for her iconic 1970's silhouettes reworked into modern collections. DVF is an absolute master in cutting the perfect dress, trouser or jumpsuit.
A centre draping detail and feminine v-neck give the dress slimming qualities for all figures. 1970's royal blue polyester metallic fabric turn Chrissy into a modern day Disco Diva.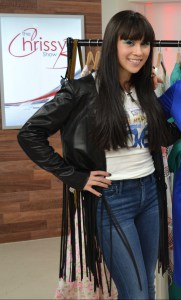 I've paired the dress with snakeskin print heels in two of the 1970's most iconic colours, blue and green.

I'm wearing a mixture of 2015 pieces. I resonate with Cher's 1970 style, and drew my inspiration from her.
A rock and roll fringe jacket is paired with a slight flared bootcut jean, platforms, and a Current Elliot vintage print muscle tee.
Maegan is channelling 1970's disco diva with her Farrah Fawcett inspired hair and glitter outfit by Essentiel.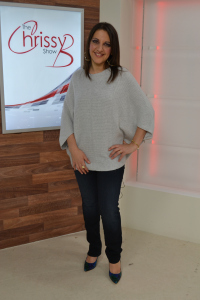 Paired with metallic stilettos by Sam Edelman, this outfit is a perfect example of what became known as the "midi" skirt in the mid-1970's when the mini became less prominent. The 1970's are known for their longer silhouettes.
Hair was inspired by both Cher and Farrah Fawcett, two very prominent figures in pop culture of the 1970's.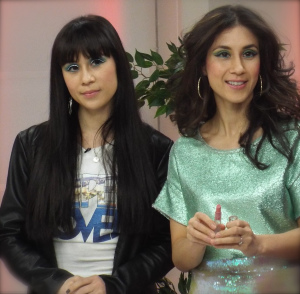 For Wednesday's show this week I've styled Chrissy B in the newest cashmere "cocoon" jumper by Duffy, Mother dark denim straight leg jeans and snake print stilettos by Sam Edeman.
For more information about me visitthemodjournalist.com
The Chrissy B Show gives a special thanks to Question Air Boutique for providing the wardrobe for Chrissy for the Monday and Wednesday shows. Question Air are an independent boutique in London with a philosophy to deliver established and emerging designers to a fashion conscious consumer. To find out more, visit www.question-air.com