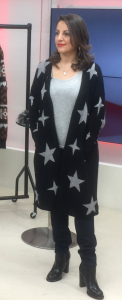 This week on The Chrissy B Show the theme was winter fabrics. This week included luxury fabrics including cashmere, alpaca, Tencel/modal blends and ethical fur.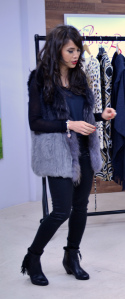 Due to the thinness of the materials used, these winter garments are not as bulky as wool yet provide the ultimate in comfort, warmth, and of course style.
Host Chrissy B is wearing a long star print 100% cashmere cardigan by 360sweater with a pure cotton grey vest underneath by American Vintage.
The look is completed with Paige straight fit denim and Sam Edelman round toed high heeled ankle boots.
I went for a rock and roll chic look to match my red-lipped makeup look. I paired skinny leather-look black denim by Paige with a sheer long sleeve cotton black vest by American Vintage and topped it off with a beautiful dip dyed fur gillet. The brand of the gilet is "Copenhagen', and they specialise in ethical fur. Black fringed ankle boots by Sam Edelman compliment the silver zipper details of the jeans, completing the rocker look.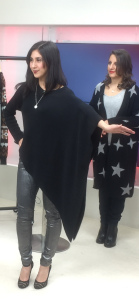 Make-up artist Maegan is wearing waxed metallic denim by Paige with statement zippers. The colour of the jeans is a statement on their own so I paired them with a solid black top.

One of my favorite Autumn/Winter pieces of this year, an asymmetric one arm poncho by Helmut Lang is ultra stylish and has great movement. The fabric is 100% alpaca, which is a very soft and warm material coming from South America. Fabulous silhouette, a special piece to add to your winter wardrobe.
Céline Lefèvre is modeling a very casual look, pairing her favorite black skinny jeans and vic ankle boots with a red check shirt by Rails under a black vest by Rag and Bone. The Rails shirt is a 50% tencil/modal blend providing much warm and comfort. Tencil and modal are natural fabrics like cotton or silk, but are cutting edge due to the technology used in developing the garments.
For more information about me visit themodjournalist.com
Cynthia Gregoire
The Chrissy B Show gives a special thanks to Question Air Boutique for providing the wardrobe for Chrissy for the Monday and Wednesday shows. Question Air are an independent boutique in London with a philosophy to deliver established and emerging designers to a fashion conscious consumer. To find out more, visit www.question-air.com