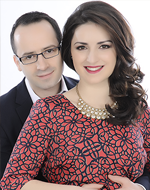 Helena and James were both born in Portugal. Helena loves sports, the outdoors, and is friendly. She is sociable and can light up a room – she's a "Little Miss Sunshine".
She studied fashion for some time but soon realised that it wasn't for her. She prefers business and media. She went on to study human resources and others.
Helena worked as a HR manager, a personal assistant to a CEO, and she was a radio presenter for Liberty Radio on "Love is in the Air" show. She has done TV presenting on and off for seven years and she also workes alongside her husband running seminars centered around love life issues.
James loves football and is a great Arsenal fan. James grew up in a broken family, and despite that, he's had a business in the past. His greatest achievement was to be able to build up a successful marriage.
Over the years, James has developed a passion for helping people and has consequently been a relationship adviser for more than 12 years.
James and Helena met through mutual friends and fell for one another. Eleven months later, they tied the knot. They went through challenging times in their relationship as any other couple and they  share  with the audience what they have learnt from it so far and what works for them.
Website: lovetalkshow.tv
Facebook: www.facebook.com/Lovetalkshow
Twitter: @LoveTalkshow