There is a way to bring a unique twist to the classic red lip and flicked liner, creating a modern edge to your make-up look. A few simple tips to remember before and after applying your make-up products. Also must have items that can make the world of difference to effortlessly achieve the ultimate flawless finish.
First things First…..Sharpen Up!
When using lipliner and eyeliner it is essential to make sure the pencil tip is sharpened to a precision point to allow for the best application and ultimate accuracy.
Remember with a pigmented lipstick your lipliner needs to fill the inside the cupid's bow (double curve of the upper lip) and the very outer edges of the mouth for the 'perfect pout'. This may not be an issue for those with larger lips but those with smaller lips these areas tend to be more challenging . If you use a dull lip liner is likely you will go outside the lip line and accidentally stain the skin outside lips.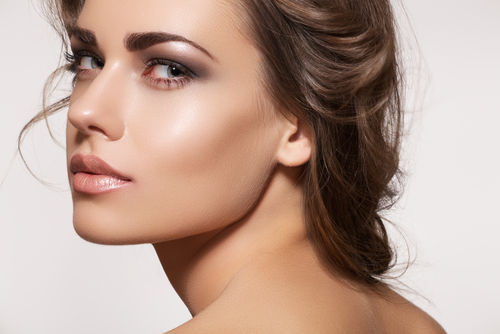 When creating the 'feline flick' or winged eyeliner, I always recommend a gel or liquid liner to this. However, if you are using a pencil liner there are ways to achieve a pointed edge to the outside of the liner to get the same effect. One way is to use the butt of the pencil (opposite end to the tip) to drag out the product to a point. Another method is discussed below as I make reference to post make-up clean up techniques!
Bringing Your Look To Another Dimension
I created a look I call 'Celine' which consist of neutral eye shadows (matte beige all over the lid and brown shadow in the crease), bright lips in Micro Bubble Lipstick in 'Micro Red' by Daniel Sandler and navy mascara in 'Lewd' by Illamasqua. The navy mascara creates a three dimensional look that gives a unique twist on this classic look.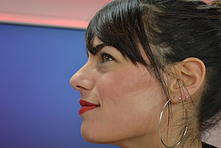 A three dimensional cheek can be created by going over the blush that is underneath the cheek bone with foundation ensuring a perfectly straight edge, this resulted in a high fashion finish.
Don't Forget To Clean Up!
Let's be honest, not everybody is going to have a success in keeping inside the lines or maybe the feline flick went a little too far for your liking. There are two products that I always keep on hand to save the day:
1) A micro-tip cotton swab also known as a craft cotton swab, (looks like a very skinny version of your normal cotton swab) can be dipped in make-up remover to swipe the end of the flick at a downward angle leaving that sharp clean edge. These can be purchased online or at your local craft shop and are amazing if you are a habitual wearer of the feline flick.
2) A matte skin coloured pencil, this can be used if your lipstick has stained the skin outside the lip line. First try to remove as much of the colour with a cotton swab and then line the lip from the outside using a matching colour pencil to your skin tone. I used the colour pencil in 'vow' by Illamasqua for light to medium skin tones and 'honour' for darker skin tones.
For more information about me visit www.maegansmakeup.com
Theresa Maegan Gregoire